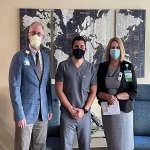 Every year, coinciding with National Doctors' Day, the patient care staff at Franciscan Health are provided the opportunity to formally recognize a member of the medical staff via the St. Luke's award, named for the patron saint of physicians and surgeons.
The winner of the 2021 St. Luke's award is fellowship-trained orthopedic surgeon Dr. B. Israel Yahuaca of Lakeshore Bone & Joint Institute.
This year, while a difficult year, there were over 150 nominations received, demonstrating that the contributions of the Franciscan Health medical staff team members were recognized and appreciated. Through a voting process, staff selected the medical staff member they felt demonstrates extraordinary respect for the nursing profession, is collaborative in their approach to patient care, and serves as a mentor/educator.
"Honored to be the recipient of the 2021 St. Luke's award at Franciscan Health Michigan City," said Dr. Yahuaca. "Thank you for all the wonderfully kind nominations! It really means so much to work with such an amazing patient care staff."